As I sat at my desk yesterday, working late, I did some internet searches for why my shins have been hurting. I didn't realize that I had posterior shin splints. I thought spin splints were something else! So, the next thing I Googled was how to get RID of shin splints! A vast majority of folks say that you should use a compression sleeve on your leg when you run. Hmm, okay. I thought those were things you wear when you are healing from an injury. I'm learning all sorts of stuff today!
Next up, finding compression sleeves that were affordable. I checked Amazon, of course, and found a few that looked promising. I put them in my cart and began looking at websites for local stores. Champs, as we know, doesn't cater to women at all! Sports Authority had a few viable candidates, but I would need to go to the actual store to see them. Our local guy,
Lloyd Clarke Sports
, had one or two, but I don't know if they carried them in the store. I figured I'd have to go to one or two of these places on Friday after I picked up my Susie's Run packet from Fit-2-Run, if F2R didn't have any, of course.
Then, the Blue Fairy smacked me on the head and reminded me of
Running Warehouse
, a website that I recently learned about from
DisBoards
. They have great prices and lots to choose from. If you are a W.I.S.H. member, there is a great promo code, which I used. (I can't publish it publicly - don't want it to be abused!)
I ended up finding a compression sleeve by Cho-Pat that was only 15.95! It came in white or black, but (as usual) my size in the white was out of stock, so I got a large black one (as seen below).
Nice pedicure!


I also got an Amphipod Micropack Landsport for $11.95 (Amazon's price was almost $5 more!) to hold my MP3 player and a Nathan Shadow Pak (in royal blue) for $18.95. I figure that one of the two of these will work for me, and with Running Warehouse's great FREE RETURN policy, I could get both, see which I liked and return the one I didn't like.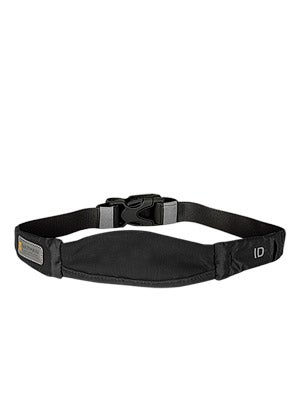 I like the idea of the micropack - the small part hangs on the outside of your pants and the bigger part tucks securely inside your pants and clips tightly closed. I'm notorious for tucking things in my pants, anyway, if I don't have a pocket, so this will be second nature to me :)
The Shadow Pak, to non-runners, is deceivingly small, but it says that it will fit a smartphone. My phone is more of a Public-Educated-Not-So-Smart phone, so it's smaller than an iPhone and should fit fine! All I need to carry is my cell, lip balm, ID, car key and mp3 player. Hopefully it will fit ME well and not bounce. There's enough of me that jiggles, I don't need any extra bounce!
The best part about ordering from Running Warehouse? FREE 2-day business delivery! I just placed my order at about 10am, and they say that my estimated delivery will be 4/26 (Thursday)!! That's FAST and will give me a day or two to play with the two bags and the sleeve. So, with a promo code, no tax and free delivery, my final cost was $39 for all of this! DEAL! I just got my order confirmation and it's on it's way to me.
I'll let you know how they all work out later!